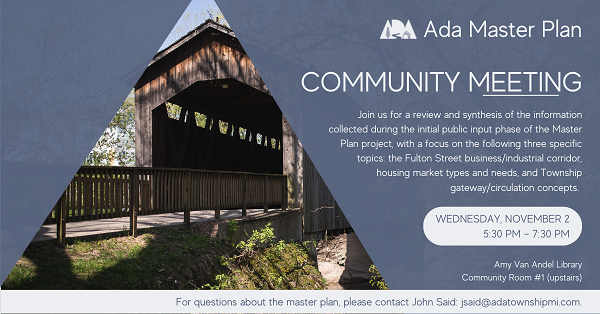 Ada Township and its Master Plan consultant, Progressive AE, will be hosting the next Master Plan Community Meeting on Wednesday, November 2, from 5:30 pm – 7:30 pm, at the Amy Van Andel Library in Community Room #1 (upstairs). Please RSVP to John Said: jsaid@adatownshipmi.com to let us know if you will attend.
Conversation at this meeting will include review and synthesis of the information collected during the initial public input phase of the Master Plan project, with a focus on the following three specific topics: the Fulton Street business & industrial corridor, housing market types and needs, and Township gateway & circulation concepts. We look forward to a lively conversation!

Nestled near the convergence of the Grand and Thornapple Rivers, the Ada community offers the perfect place to live, work and play, blending more than 1,000 acres of public land and parks with progressive business, award-winning education and an active community.
Learn more about the Ada Township