As part of the Ada Village Social District, patrons ages 21+ can purchase an alcoholic beverage from a participating establishment and consume it outdoors within the Social District Commons Area.
Hours of Operation are Wednesday evenings from 4:00 pm – 9:30 pm June 29 through August 31. The Social District will only operate during the Music on the Lawn concert series that takes place in Legacy Park.
PLEASE DRINK RESPONSIBLY
Click here to view the Social District map and participating restaurants.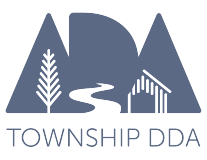 The Downtown Development Authority (DDA) was created in coordination with Ada Township, and has the authority and capability to develop, finance, own and operate a variety of public improvements and programs intended to improve and enhance the DDA District, which includes the Village area and land along the Fulton St. (M-21) corridor extending from the west Township boundary to the business areas near the Pettis Ave/Fulton St. intersection.
Learn more about the DDA