All Events
Downtown Development Authority Board Meeting
The Downtown Development Authority Board meetings are held on the 2nd Monday of each month at 8:00 a.m. at the Ada Township Hall. The public is always invited to attend these meetings, and meeting minutes and agendas are posted on the Township web site.
Meeting agendas will be available for download prior to Board Meetings in a PDF format at least 24 hours prior to the posted meeting date. To view current Agendas and/or archived Meeting Minutes, please visit: Downtown Development Authority (DDA).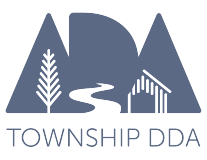 The Downtown Development Authority (DDA) was created in coordination with Ada Township, and has the authority and capability to develop, finance, own and operate a variety of public improvements and programs intended to improve and enhance the DDA District, which includes the Village area and land along the Fulton St. (M-21) corridor extending from the west Township boundary to the business areas near the Pettis Ave/Fulton St. intersection.
Learn more about the DDA