All Events
Music on the Lawn Summer Concert: Chris Collins Band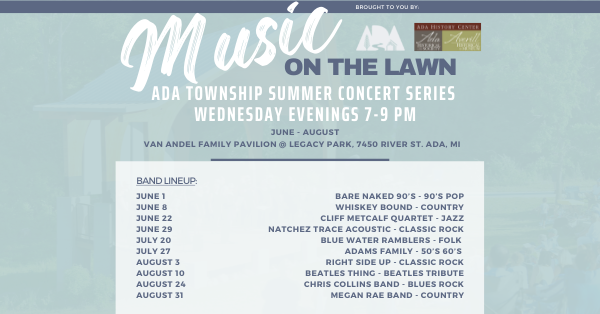 Come out to The Van Andel Family Pavilion at Legacy Park to enjoy an evening with Chris Collins Band.
The Ada Village Social District will be open from 4-9:30pm! Grab a beverage from your favorite Ada Village restaurant and take a walk through the village to Legacy Park.
Participating establishments:
Luna of Ada, Gravel Bottom Craft Brewery, Zeytin, MudPenny, Nonna's: The Trattoria, Schnitz Ada Grill
*NO OUTSIDE ALCOHOL IS ALLOWED*
The Music on the Lawn Summer Concert Series is presented to you by Ada Township Parks and Ada Historical Society.
Ada Township Parks and Recreation Department