Discover, Taste and Learn!
Join us for this spectacular walking tour presented by Ada Township's Downtown Development Authority. Produced and owned by Square Peg Events, a Cynthia Davis Venture.
As a fab, fun, group, we will stroll to these fab locations, then walk to Legacy Park for Music on the Lawn and greetings from the Park and Recreation team. Each location will be ready to greet and show you what makes their establishments top notch. You will hear their secrets and inside scoop regarding their history, unique locations, future events and more. Our Progressive Tastings are not pub crawls! They are unique peeks into the world of our hospitality community. Your guide, Cynthia Hagedorn, Local Artist, Social Entrepreneur and Professional Chicken Hugger will be at the helm to guide you through the fun.
Bring your significant other, date, or a friend or several. Our events strive to be very social, and welcoming environments. We always encourage singles to attend! Grab your people and head out for an educational, and swell time tasting and discovering.
Starting Location: 5 p.m.
The Historic Covered Bridge
7490 Thornapple River Dr SE, Ada, MI 49301
Hosting Locations:
Schnitz Ada Grill, Nonna's: The Trattoria, and Garage Bar & Grill
Greeting Locations:
Godwin's Ada Village Hardware and Plumfield Books
Ticket information:
Ticket price: $55, inclusive. A limited number of tickets will be available.
Your ticket price includes tax and tip, but the card processing company has a small transactional fee.
*tiny words*
NO DOOR SALES. Must be 21 years +
Rain or shine.
Dress appropriately for the weather: Comfy, Casual attire.
We move to each location as a group.
NO REFUNDS OR EXCHANGES.
NO FOOD/BEVERAGE SUBSTITUTIONS. *We cannot accommodate food allergies or aversions.*
Further questions?
Email connect@cynthiahagedorn.com
Text: 616-510-3599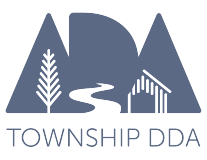 The Downtown Development Authority (DDA) was created in coordination with Ada Township, and has the authority and capability to develop, finance, own and operate a variety of public improvements and programs intended to improve and enhance the DDA District, which includes the Village area and land along the Fulton St. (M-21) corridor extending from the west Township boundary to the business areas near the Pettis Ave/Fulton St. intersection.
Learn more about the DDA