All Events
Winter Lights Walking Trail 12/2 - 1/31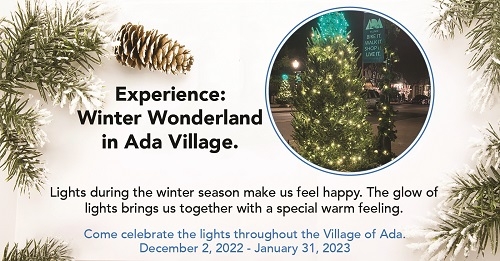 As the flurries begin to fall, you are invited to experience Winter Wonderland in Ada Village! Thirty (30) Fraser Fir Pine trees (managed by Romence Gardens & Greenhouses) and more than 25,000 lights (West Michigan Holiday Lighting) line Ada Drive and beyond.
Come out to experience Winter Wonderland in Ada Village and be sure to keep an eye out for deer as you drive through the Village or take a stroll following our Winter Lights Walking Trail. The loop is just under a mile – a perfect walk for families and people of all ages. It begins and ends near the Ada Village General Store, with nearby access to parking, public restrooms and Legacy Park.
Winter Wonderland will officially kick-off with the Covered Bridge lighting on Friday, December 3, and the lights will stay on every night through January 31!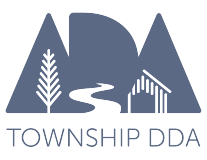 The Downtown Development Authority (DDA) was created in coordination with Ada Township, and has the authority and capability to develop, finance, own and operate a variety of public improvements and programs intended to improve and enhance the DDA District, which includes the Village area and land along the Fulton St. (M-21) corridor extending from the west Township boundary to the business areas near the Pettis Ave/Fulton St. intersection.
Learn more about the DDA