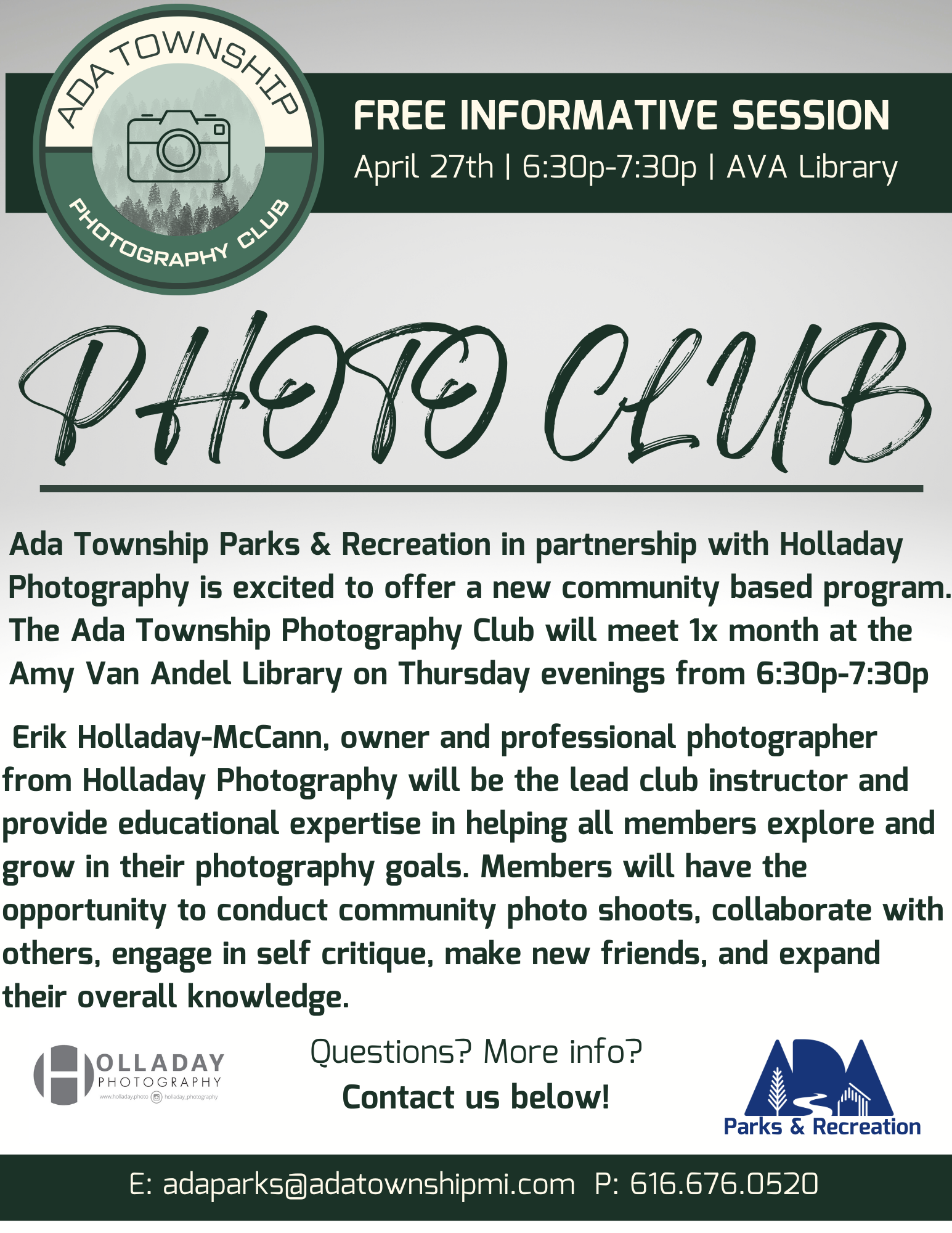 Photography Club
Come check out our new community program! The Ada Township Photography Club is a partnership between Ada Township Parks & Recreation, and Holladay Photography.
All skill levels are welcome. We will be hosting a free informative session on Thursday, April 27th from 6:30p-7:30 at the Amy Van Andel Library. Attendees will have the opportunity to learn more about what educational and event opportunities the club will provide, as well as the chance to ask questions and get connected with club instructor, Erik Holladay - McCann from Holladay Photography.
No pre-registration is necessary, we can't wait to see you!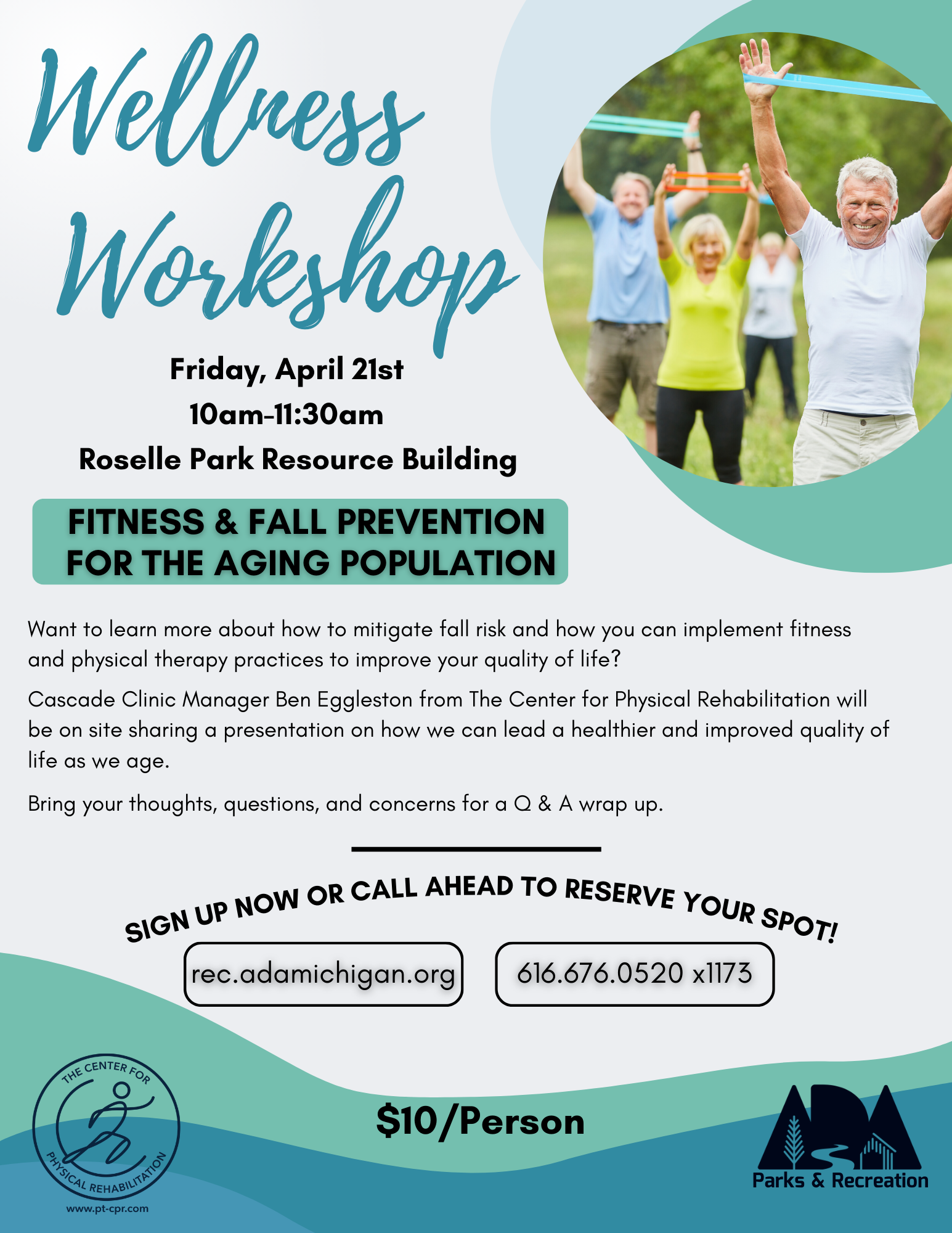 Wellness Workshop
Come learn more about how we can all implement ways in which we can improve our quality of life as we age. Our featured host and partners from the The Center for Physical Rehabilitation will be on site to share their knowledge and provide professional insight.
Bring your questions, thoughts, and concerns for a Q & A session towards the end.
$10/Person fee - pre-register HERE, or call ahead to reserve your spot (616.676.0520)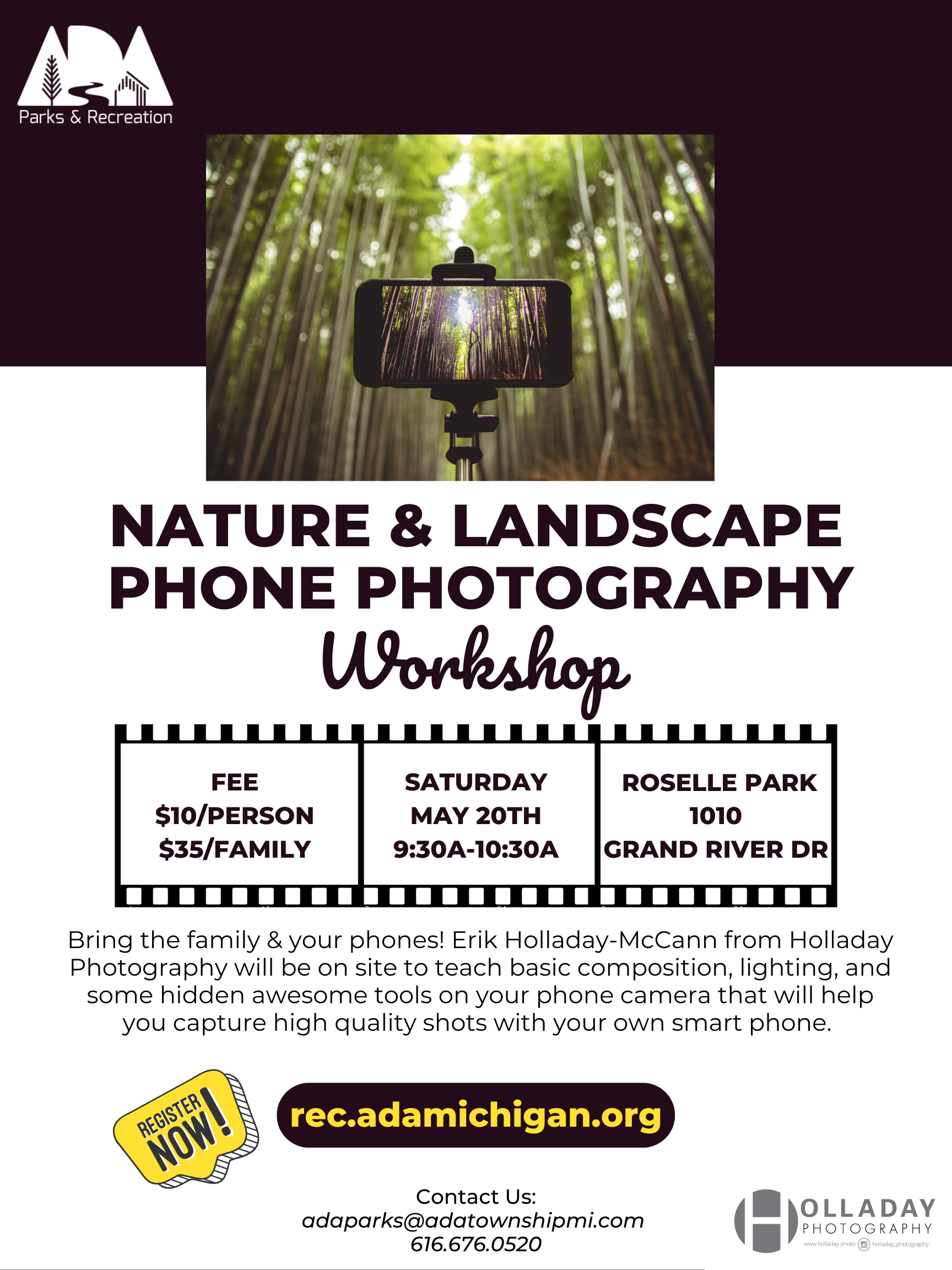 Phone Photography Workshop: Nature & Landscape
Bring the family & your phones! Erik Holladay-McCann from Holladay Photography will be on site to teach basic composition, lighting, and share some hidden and fun tools that can be found on your own phone camera that will help you enhance and capture high quality shots.

Fee: $10/person or $35/family (4+ members)

Date/Time: Saturday, May 20th / 9:30a to 10:00a
Location: Roselle Park (1010 Grand River Drive)
Youth Programming Days
Sports Field Day (June 6th | 9a-12p | Ada Park) - Learn and experience a variety of sports while competing in fun games and activities throughout the morning.
Michigan Wildlife Day (July 27th | 9a-12p | Roselle Park) - Learn about local wildlife, see live animals, play fun games, explore wildlife habitats and take a hike through the park.
Pioneer Day (August 3rd | 9a-12p | Ada History Center) - Immerse yourself in historic Ada! Experience life as a child in the 1800's by exploring the museum, playing games and creating crafts.
Youth Programming Days are for children ages 8-12, cost is $20/child. Sign up and reserve your spot HERE
To stay up to speed on the latest updates for all things Township related please also visit our Facebook Page.