Welcome to Ada Township
Nestled near the convergence of the Grand and Thornapple Rivers, the Ada community offers the perfect place to live, work and play, blending more than 1,000 acres of public land and parks with progressive business, award-winning education and an active community.

Our neighborhoods and rural residential areas offer a wide range of lifestyle choices. Housing options include home sites overlooking river vistas and rolling meadows; country homes on wooded lots teeming with nature; family-friendly neighborhoods on tree-lined streets; transitional housing; and, custom-built homes for empty-nesters. Regardless of where you live, Ada offers a unique lifestyle experience for everyone!
Ada Township Trails
Ada Township's 15+ miles of non-motorized trails in our parks and along our public roads provide Township residents with easy access to the physical and mental health benefits of exercise in the outdoors.
If you are finding that your usual trail route is getting over-crowded or you simply need a change of scenery, the Township-wide trail system map below (click on the image) can help you find other nearby trail routes to enjoy. Check out the Ada Village Facebook page as well and share your pictures using #MiAdaTrails.
We love to see our residents enjoying the trails and parks, and remember to stay SAFE!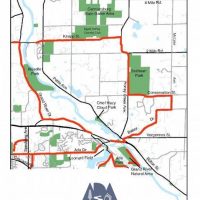 Upcoming Events
Zoning Board of Appeals Meeting Dates & Agenda Deadlines: Meeting DateAgenda DeadlineDec 5Nov 7

Read More

There is nothing more fun than shopping for the holidays with your friends! Join the Ada Village businesses for a Women's Night Out. A night full of treats, discounts, giveaways, and more! Grab a friend and join us for a…

Read More

The Township Board is the law-making and policy-forming branch of Ada Township. The Board meets publicly twice a month, on the second and fourth Monday at 7:00 p.m. Meetings for September through May are in the Township Hall, located at 7330…

Read More