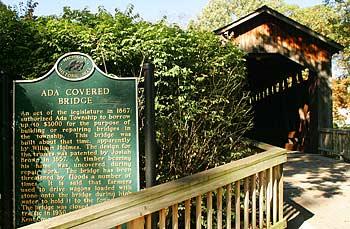 Located at 7490 Thornapple River Drive, this small riverside park holds a good deal of Ada history. Softball has been played on Leonard Field since the 1940's. Back in the days when TV was new and there wasn't much to do, the ball games would pack in the spectators. Prior to 1930 the covered bridge was the main thoroughfare across the Thornapple River. The Covered Bridge is a reconstruction of the original bridge that was destroyed by fire in 1979.
Location
7490 Thornapple River Dr SE Ada, MI 49301 Map
Opportunity for Public Input MI DNR "Land and Water Conservation Fund" Grant Application
Please be advised that Ada Township is soliciting public comment on the proposed application for a 2021 MI DNR Land and Water Conservation Fund grant for Leonard Field Park Riverfront improvements. Interested parties are invited to comments during the Ada Township Board meeting on Monday, March 8, 2021, at 7:00 P.M. The meeting will be held via Zoom and is open to the public. A Zoom link will be on the meeting Agenda, posted on the Ada Township website prior to the meeting:
Comments may also be submitted via email to adaparks@adatownshipmi.com
Leonard Field Park Master Plan 2020 - 20 0615 Leonard Field Park Final Mp Sm

Leonard Field Park Riverfront Improvements - 21 0225 Lfp Riverfront Improvements Lwcf Grant Site Development Plan
Leonard Park Features
2 acres
Softball Field
Bike Path
River Overlook Deck
Ada Covered bridge
Dog Policy
Dogs must be kept on a leash and cleaned up after in all Township parks.
New Striped Crosswalk at Leonard Field
The Township recently completed a new striped pedestrian crosswalk on Thornapple River Drive, at the entrance to Leonard Field Park and the Fase Street intersection. Barrier-free curb cuts and a short stretch of concrete sidewalk were installed, along with reflective white striping in the street.
The new striped crosswalk will enhance pedestrian safety at this busy crossing location, and will hopefully send a message to drivers to slow down and watch for those pedestrians and bikers. View the new crosswalk here.
Please help to keep our parks and natural areas clean and safe for people and wildlife.

Rental Options
To see available rental options for Leonard Park click here