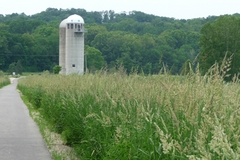 Roselle Park is a 240-acre plus nature preserve located at 1010 Grand River Drive NE. The park was formerly home to the Ada Beef Company, and today features natural and restored beauty as well as the Roselle Park Resource Building which opened in 2016. The Resource Building features year-round restrooms and a meeting room that is used for Park programs and is available for rental by non-profits and local businesses.
A paved trail leads from the parking lot to the Grand River. Along the trail, there is a river overlook and canoe landing as well as the Woodrick Memorial wetland observation deck, restored natural streams and waterways and native wetland and prairie vegetation. The silo area features a natural-themed playground, climbing wall, picnic tables, and silo observation deck (open during special events). Paved and mowed natural trails wind through wetlands, prairies and forests--providing good opportunities to view wildlife and migrating birds.
For the protection of wildlife habitats and your own safety, please stay on the trails. Wearing insect repellent is advised. No bikes on natural trails please. Roselle Park provides great opportunities for cross-country skiing in the winter, and trail heads are marked. All pets must be leashed and cleaned up after. The park is open from dawn to dusk.
Roselle Park is home to many Ada Township Parks & Recreation events, including the annual Roselle Park River Festival and the Grand River Run.
Location
1010 Grand River Dr NE
Ada, MI 49301
Map
Dog Policy
Dogs must be kept on a leash and cleaned up after in all Township parks.
Roselle Park Features
240 acres
Trails
Resource Building
Observation Deck
Playground/climbing wall
Natural Areas
Wetlands
Prairie
Forests
River Shoreline
Please help to keep our parks and natural areas clean and safe for people and wildlife.