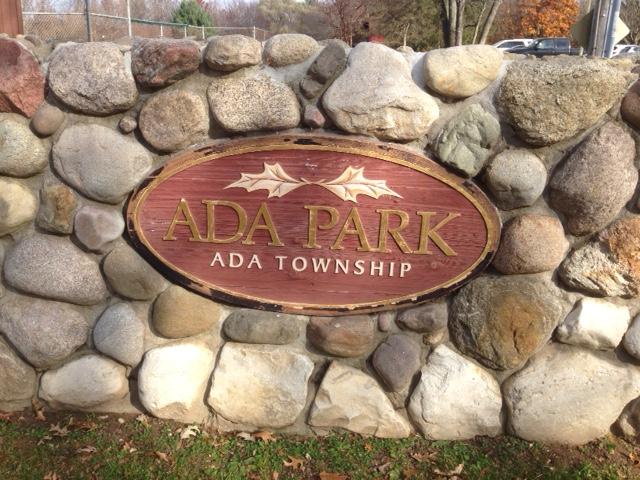 Ada Township Park & Locke Arboretum is located at the corner of Buttrick Ave. & Grand River Drive. This 57-acre park was established for the United States Bicentennial in 1976. It provides a wide variety of both active and passive recreation. There are softball & soccer fields, tennis courts, pickle ball courts, a basketball court, playground, fishing pond and both paved and natural trails. Fishing is restricted to those under 12, senior citizens or physically challenged individuals. Plenty of tables & grills plus a pavilion and two gazebos provide ample opportunity for your picnic. Reservations of the pavilion and triple gazebo can be made by contacting the Park Office at 616-676-0520 or by emailing the Park Director. Facility use and reservation fees can be found here:Ada Township Parks Facility Use And Rental Fees
Ada Park is also home to the Parks Dept. Office, the Les Craig Learning Center and the Bud Locke Arboretum.
Location
1180 Buttrick Ave SE
Ada, MI 49301
Map
Park Map
Dog Policy
Dogs must be kept on a leash and cleaned up after in all Township parks.
Ada Park Features
57 acres

Softball & Soccer Fields 
Tennis Courts

Basketball Court
Grills
Picnic Tables 
Playground: Children have a special play area with sturdy safe play equipment, conveniently located next to the Pavillion with restrooms.  

Fishing Pond: Fishing at the park's spring-fed Fishing Pond is always a source of enjoyment for young and old alike. Within the clear waters, maintained populations of bluegill and bass await your hook. Fishing is restricted to children under 12, senior's citizens and the handicapped. Fishing docks are accessible to wheelchairs. The pond area also provides ideal opportunities to observe wildlife; many reptiles, amphibians and birds inhabit this unique area. 

Trails: Paved trails are open to walking and biking.
Pavilion: The Pavillion accommodates up to 125 people; facilities include electrical, water, a large grill and barrier-free restrooms. A picnic area is located nearby with tables and grills available on a first-come, first-serve basis. 

Gazebos: The Triple Gazebo accommodates up to 60 people; facilities include electric and a large grill .Reservations for use of the Ada Park Pavillion or Triple Gazebo overlooking the pond can be made by contacting the Park Office. 

Les Craig Learning Center: Special programs are available at the Les Craig Learning Center. These include nature programs and tours for area schools and groups, Saturday programs for the public and more. 

Bud Locke Arboretum: The Arboretum is a collection of 200 trees including over 50 species from around the world. It offers a place for botanical investigations and quiet relaxation.
The Al Hook Nature Area and barrier-free Warbler Trail offers opportunities for exploring the natural world. The trail winds through a variety of natural communities, including a wooded area and open meadow.
The Woodland Garden is one of the shadier places to relax at the park. This natural area has been enhanced with the addition of many flowering shrubs and perennial flowers.
Please help to keep our parks and natural areas clean and safe for people and wildlife. Remember that wildlife cannot be removed from the Park.