Amy Van Andel Library and Community Center
A Central "Hub" of Community Life in the Village
The Envision Ada Plan for redevelopment of the Ada Village area identified a lack of civic space and the need for a central "hub" of community life in the Village. To meet this need, Ada Township is undertaking the development of the Amy Van Andel Library and Community Center on the north side of Headley St., between Fulton St. (M-21) and Ada Dr. The library component of the facility will be a new branch of the Kent District Library (KDL) system. Ada's new library and community center will include a library of the future, containing not only traditional hard-copy books and periodicals, but also access to digital media and unique spaces and facilities for programs and experiential learning opportunities for persons of all ages. The building will also include a variety of flexible multi-purpose spaces for a variety of community meetings, including small study rooms, conference rooms and meeting rooms.
The design of the new facility is being led by the architectural team of Progressive AE of Grand Rapids. The design process has been guided by a Building Committee comprised of Township officials, KDL representatives and Township residents.
Construction is in progress, with completion and opening of the building to the pulbic scheduled for late 2020.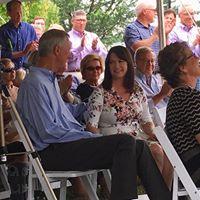 Ada Township and the Ada Township DDA have $3.7 million in public funds allocated to the project. The balance of the project cost is targeted to come from private contributions to the "Our Next Chapter-Ada" capital campaign fund. Led by a generous gift from Steve and Amy Van Andel and significant gifts from other major donors, the capital campaign is nearing its campaign goal of over $7 million.
.
Building Committee Membership
Terry Bowersox, DDA Board Chair

Melissa DeVos, Township resident
Lindsey Dorfman, Director of Branch Services/Operations, KDL
George Haga, Township Supervisor
Bryan Harrison, DDA Board member
Paul Krieger, Township resident
Paul LeBlanc, Township Trustee
Warren Rempel, Township resident
Kurt Stevens, Director of Information Technology, KDL
Amy Van Andel, Township resident
Christopher Wilson, Township resident
Penni Zurgable, Adult Services Librarian, KDL; Township resident
Dashboard Reports - Consise 1 page summaries of design and construction status