Amy Van Andel Library - Ada Community Center
A Central "Hub" of Community Life in the Village
The Envision Ada Plan for redevelopment of the Ada Village area identified a lack of civic space and the need for a central "hub" of community life in the Village. To meet this need, Ada Township recently completed development of the Amy Van Andel Library - Ada Community Center on the north side of Headley St., between Fulton St. (M-21) and Ada Dr.
The library component of the facility is a new branch of the Kent District Library (KDL) system. Ada's new library and community center is a library of the future, containing not only traditional hard-copy books and periodicals, but also access to digital media and unique spaces and facilities for programs and experiential learning opportunities for persons of all ages. Several small group study rooms are available for library patron use, as well as a tutor center. Usage of these rooms is managed by Library staff.
The building also features a large community room (74-person capacity) and a small community room (49-person capacity) both of which will be available for public use on a reservation basis in the near future. Information regarding room rental fees and process will be available soon.

The design of the new facility was led by the architectural team of Progressive AE of Grand Rapids, and guided by a Building Committee comprised of Township officials, KDL representatives and Township residents.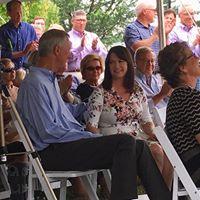 Ada Township and the Ada Township DDA provided over $4 million in public funds toward the $11.9 million cost of the building project. The balance of the project cost has been met from private contributions to the "Our Next Chapter" capital campaign. Led by a generous lead gift from Steve and Amy Van Andel, the capital campaign raised over $7.5 million for the project.