DDA Board Member: Terry Bowersox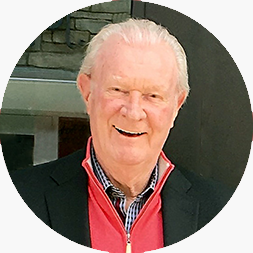 Bio:
Terry Bowersox is one of the original members of the DDA Board. He was appointed to the board when the DDA was first introduced and immediately started working on projects such as the introduction of the Ada Farmers' Market in 2009 and the Envision Ada redesign starting in 2011. Terry has played a large part every project the DDA has undertaken.
Terry is a business development officer at Great Lakes Business Credit. Previous to his current roles he served as the Vice President at Crestmark Bank. In the mid-90's he switched his focus to asset-based lending focused on troubled companies and startups. Terry has served 50 years in the Commercial Banking/Leading field, and specializes in making prospects comfortable with alternative lending.
Terry attended Kelloggsville Public Schools. He then went on to study liberal arts at Grand Rapids Community College and the University of Michigan. He was the fourth member of his program at GRCC to go on to study at U of M.
He has always been heavily involved in each community he has lived in. Prior to moving to Ada in 2006, he served the Wyoming community as a part of Wyoming Promotions. He helped to put on weekly shows, dances, and a 4th of July celebration.
When Terry is not busy working, he enjoys sports, and reading. He has a great passion for geography and especially ancient civilizations. Terry even played a year of professional football in Canada!
Terry's favorite part of Ada is the people in the community, and how the town has stayed progressive while preserving the sense of history. He believes the success of development in Ada stems from working hard on well-presented ideas, constantly thinking ahead, and overcoming the challenges presented.